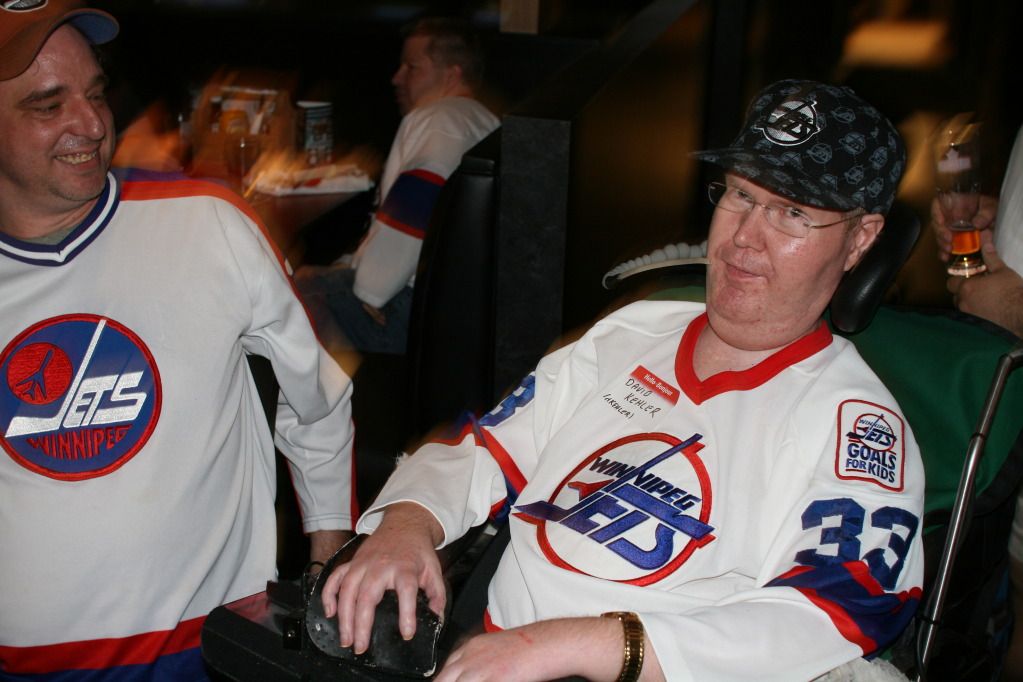 Dave Kehler, 1968-2012

This Wednesday afternoon at 2:00pm Winnipeg time, a funeral service will begin for Dave Kehler. Dave and I had been friends for over ten years, a friendship forged out of a mutual love for the sport of ice hockey. Dave loved his Jets and I loved my Penguins. Dave won the very first championship in my online hockey simulation league in 2004 with a victory over my team. I've won my share of championships since then, but we often called each other "champ" in emails to each other. Dave called me champ because I've won the league championship a few times. I called Dave champ because I thought it was the thing to do for a guy who literally battled everyday against his disease. Dave never seemed interested in talking about himself very much so we didn't really get into the particulars too often as to his medical situation. He suffered from Spinal Muscular Atrophy, for which there is no cure. Dave passed away from pneumonia, not the SMA, by the way.
Dave and I had many a conversation via Skype about hockey, family, politics, etc. I found him to be an intelligent man with a quick wit and a sharp mind. Dave attended the University of Manitoba, studied computer science, ran his own businesses in the computer field, served on the boards for various organisations dealing with aiding those with disabilities and had recently begun work as a Court Stenographer in Winnipeg. He loved to vacation in Las Vegas and enjoyed the band RUSH, as I do...
For a guy bound to a wheelchair that needed help from others to do the sort of things most of us can do on our own, I found him inspiring. Never heard him whine, bitch or complain about his condition. Frankly, he was too busy, I think...
He was a guy that would cross my mind sometimes when I was having a rough day or frustrated by something. Thinking of him and his strong, positive attitude would serve as a bit of a wake up call to me to get a grip, you might say.
He leaves behind a beautiful wife and his beloved dogs and cat. And a ton of friends, some who he met in person, some he didn't - all around the world. I'll miss him.
You always really miss the good ones, eh?